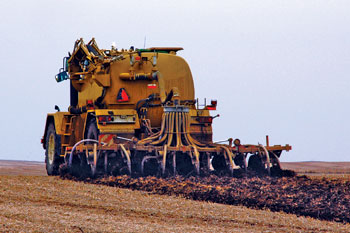 The On-Farm Network® is an organization of crop producers interested in economics, stewardship, and reducing their environmental footprint.
It began with a handful of growers in Iowa, studying nitrogen management for corn production. From there, it has spread geographically and in scope of study.
Participating growers use precision ag tools and technologies to conduct research on their own farms. Their data is merged with results from other growers, resulting in not only a local picture, but also a regional and, sometimes, a statewide picture of how specific products and practices influence crop production profits and, potentially, the environment. This is especially true when studying nitrogen and phosphorus sources (fertilizers and manure), but also applies to other crop production inputs, such as herbicides, insecticides, and fungicides.
While the program was initiated by a vote of the Iowa Soybean Association board of directors and funded partially through the soybean checkoff, the current scope of the program takes it well beyond Iowa. Direction and communications are coordinated through the Ag Technology and Environmental Stewardship Foundation, a 501(c)3 entity established, owned and managed by farmers for the express purpose of exploring the economic and environmental impacts of new crop production and soil management technologies, inputs and practices.
Partnerships with the Environmental Defense Fund, the Iowa Department of Agriculture and Land Stewardship, the USDA Natural Resource Conservation Service, and a host of private foundations and agribusinesses have contributed greatly to the success of this program.